My brother Louis organized his first Game Jam called "EPIC RANDOM JAM" in France. The idea is really cool and guaranties loads of fun.  The time limit for development is 48hours. The name of the games to be developed are randomly generated with the awesome generator at http://videogamena.me/. Each participant received a list of 10 random games names to choose from.
I got the following list to choose from: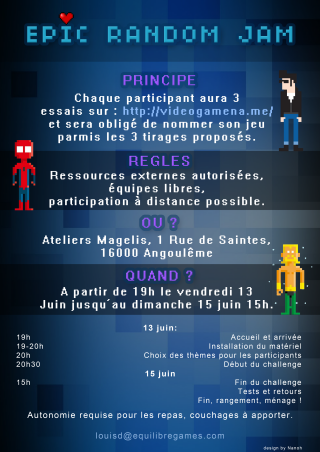 Asian Hovercraft Party
Galactic Dodgeball Armageddon
Enormous Terrorist Fever
Miracle Animal Raider
All-star drug-dealing destruction
Celtic Baking Competition
Heavy Bazooka Caper
Ghetto Computer Online
Biblical Shaving – The Revenge
Deep Space Amish III
I went for Enormous Terrorist Fever. I used Adobe Flash for the graphics and coding.  Graphics were not a priority in the limited time given 😉 . Credits for the sound effects in the "About" menu.
Gameplay:
Terrorists got an ENORMOUS FEVER epidemic which causes them to detonate. You need to cool them down with water for them to reach the hospital were they can get proper treatment before exploding!
Screenshots:
Get the game:
You can either download the game:
Or play online:
Congratulations to Louis for his successful event!

To know more, you can check the dedicated Facebook page.