Off to XenServer 7.3 we go!
Starting with XenServer 7.3, Citrix cut off features from their free XenServer edition among which are:
Xen Storage Motion
Role Based Access
High Availability
GPU Pass-Through
Site Recovery Manager
Limitation to 3 servers per pool
After making XenServer open source It's probably an attempt for Citrix to cash-in on the expending user base. These restrictions to the Free Edition seem reasonable as these features must be needed by high value environment justifying paying a license.
I though I could live with it until…
The cold shower
During the upgrade process, I could use Live and Offline migration to evacuate hosts being updated (converting 6.x partitions to 7.x partitions which requires wiping local storage)
After updating to XenServer 7.3, moving disks from SR to SR I got the message: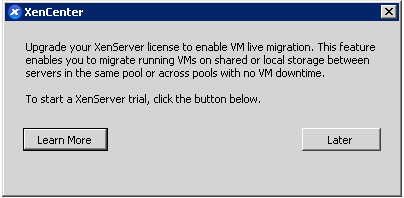 Which I was aware of, live storage motion is indeed a paid feature. But wait, my VM is off!
After some head scratching, speculation of purposefully planted "bug" to push users to buy and Googling, I found a bug report of someone having this issue.
Hoping it would  be fixed quickly, I went about moving VDIs with the detach-move-attach method.
XenServer 7.4 comes along, with another update to XenCenter and the issue is still there.
At the date of writing, there was finally a response from Citrix on the issue but it took them more than 3 months to reply which is quite long when you have to frequently move VDIs. I will leave it to you to judge if this lack of concern is the digital equivalent of giving the finger to users of the Free Edition…
Then comes XCP-ng
It's  a present from the good folks at XenOrchestra. I had an eye on XCP-ng for a time but I decided to wait for version 7.4.1 which includes XCP-ng Center to give it a try on my minimalist, low power XenServer 6.5 box.
Documentation didn't make it explicit supported upgrade paths but because it was built on XenServer 7.4.0 which supports upgrade from XenServer 6.2, I figured it would work as well.
It didn't disappoint!
Simple and easy as a normal upgrade it did the upgrade using the /var/preserve/safe2upgrade file flag to re-partition the main disk.

XCP-ng Center
delivers, all features (but vGPU live migration which is not open source) are available and be-gone with the warnings about an "Unlicensed XenServer".
And the best, no need to detach VDIs to move them anymore!
Conclusion
I was fine with Citrix's move to try making more cash on XenServer as it should help them improving their product but I'm not happy that the somewhat critical issue described above took so long to be just acknowledged. It makes me doubt of the (lack of?) resources Citrix is planning to put on the Free Edition of XenServer and I imagine they do not think of it as a production-ready product anymore.
Having chatted a bit with the people behind XCP-ng, I know these guys have their heart of the right place and will push hard to grow the community. They are very reactive and also they are French 🇫🇷!
Sorry XenServer, we had a good run but it's time to part ways!